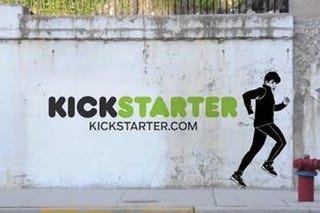 I think it was about a year ago, now, that I pledged to my first Kickstarter. I think that it was to "Shadowrun Returns," a computer game by the same people who made the Shadowrun tabletop RPG. Since then, I've thrown in on a couple of other projects, including a book and a ring, but I think I'm done contributing now. The discounts received, in my opinion, are not significant enough to be worth the risk of buying a product sight-unseen, and with no guarantee that the creator will actually be able to deliver. Also, anything I'm likely to back is going to fund easily, so I'm not going to be essential to the funding being successful. Essentially, I've decided that I will be the free-rider phenomenon.
Kickstarter still fascinates me, though, and I'd really like to hear other people's thoughts on it, especially if you have created a project yourself. The biggest question I suppose I have is what do you think is a legitimate use of Kickstarter funds? I think it's pretty clear that that can change depending on what kind of project it is, and based on what it says in the pitch, but, generally, what do you think? Raw materials? Equipment and tools to produce it? What about salaries for those who aren't directly involved in production, like an accountant or secretary, or setting up a business? Would it be legitimate to take a bit as just plain profit? I recently heard about a project creator who used funds to move himself cross-country, even.
Speaking of taking profits, how does Kickstarting affect them? Not long ago, Double Fine announced that it had run out of money, and was only half-done with its project. They decided they would make up the difference by selling access to the alpha version of the game, which Backers were already getting. Given how huge their Kickstarter was, I'm unsure how many more people there could be who want the game, but don't have it coming to them already, but say they get the additional funding, it seems hard to believe there could possibly be many more potential customers out there for after completion. If they haven't been taking profits all along, then I would bet that the project will be pretty much a zero-sum game for them.
This brings me to another question: what kind of education does Kickstarter provide to both backers and creators, and what education should they be providing? Obviously, a lot of what people should know is spelled out in the licenses or in various parts of the Kickstarter website, but should there be mandatory education about legal rights and obligations of the people involved, or possibly a required format that is more of an investment pitch and less of a sales pitch? A lot of people backing projects seem to have fairly unrealistic expectations, and many creators seem to not have a clear idea of what they're doing.
So these are my thoughts about Kickstarter. Now I'm interested in what you guys think.